Find Us In The Bakery or Deli Aisle!
Thumb Bread® is now availabe at select ShopRite and The Fresh Grocer stores in the Northeast (Connecticut, Maryland, New Jersey, New York, and Pennsylvania) as well as all New York City locations of Fairway and Gourmet Garage stores. Look for our signature burlap bread bag design. More locations coming soon!
Store Locator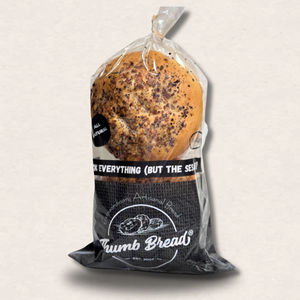 4 Rolls In A Bag (5 oz. each) 1 Bag $7.99 No SESAME SEEDS everything flavor of Thumb Bread® is...
Learn more
4 Rolls In A Bag (5.5 oz. each) 1 Bag $6.99 All-natural, simple ingredients make this the perfect bread for everyone in the...
Learn more
"Bread makes the sandwich and these were the best sandwiches I've ever had because of the bread. Familiar, but very unique and a very special bread. It's just the best bread I've ever had...You have to try it!"
Dan Rowe
"It was love at first bite! Thumb Bread goes incredible with anything and everything. Whether we use it for a sandwich, with dips, toasted, or simply plain, we can never get enough. Thumb Bread has become a part of our family. 😊"
Nicole F.
"Thumb Bread is life-changing (and I think about it on the regular). It's soft, fluffy, the perfect thickness, and an ideal vessel for basically any type of dip — especially hummus. I'm so excited that it's going to be available for purchase, as I've been a longtime customer of Flatbread Grill and can't wait to be able to purchase in-store!"
Jennifer Tripucka
Founder, The Hoboken Girl
"Savory, soft, and always fresh, thumb bread is a must try for everyone. Trust me, you won't be disappointed. In fact, you will most likely become addicted. "
Anton M.
"Absolutely LOVE Thumb Bread. Super delicious, fresh, and fluffy! I could eat it every single day."
Lynn Hazan
"I'm officially obsessed with Thumb Bread!! My favorite thing about the bread is how versatile it is! The pocket makes them perfect for sandwiches, but I've also found myself ripping it apart and using as a vessel for hummus and dips. You could even top them and make little mini pizzas! Such a great item to always have on hand in your pantry or freezer!"
Jen Brennan
Recipe Blogger, @thesavorybite_
What is Thumb Bread®?
Created by three sisters in 2007, Thumb Bread® is the epitome of artisanal mastery. From the delicious, golden crust to the soft, pillowy interior, every bite is a testament to our dedication to perfection. We bake in small batches using NON-GMO flour and put thumb marks into each individual roll.
Thumb Bread® is an extraordinary artisanal, all natural bread that can be used for everything. From toasts, to open-faced delights, to making cold or hot sandwiches.
You can also use it for dips and appetizers, and even to make desserts!
Learn More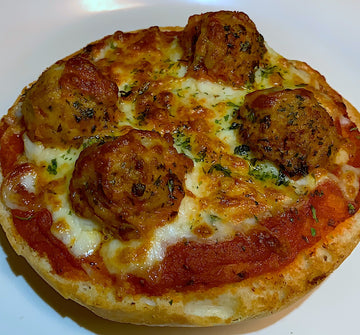 Mini Meatball Parm on Thumb Bread®
If you're looking for a quick and easy, hearty snack that packs a punch of flavor, look no further than a mini meatball parm served open-faced on Thumb Bread®!
Follow Us
Follow and tag your creations on Instagram.